Biography of Kumaran Asan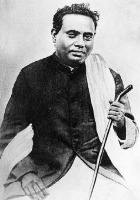 N. Kumaran Asan
also known as Mahakavi Kumaran Asan (the prefix Mahakavi awarded by Madras University in the year 1922 means "great poet" and the suffix Asan meaning scholar or teacher), was one of the triumvirate poets of Kerala, South India. He was also a philosopher, a social reformer and a disciple of Sree Narayana Guru.
Kumaran Asan initiated a revolution in Malayalam poetry in the first quarter of the 20th century, transforming it from the metaphysical to the lyrical. Deep moral and spiritual commitment is evident in Asan's poetry. His works are an eloquent testimony of poetic concentration and dramatic contextualization.
Birth and Family
Asan was born in a merchant family belonging to the Ezhava community in April 1873 in Kayikkara village, Chirayinkeezhu taluk, north of Thiruvananthapuram district of Kerala, south India. Named Kumaru He was the second son in a family of nine children. His father, Narayanan Perungudi, was well versed in Malayalam and Tamil.His mother, Kaali. Asan inherited his taste for Kathakali and classical music. Kumaru trained in mathematics and Sanskrit for which he had a passion. Even though through his father's efforts, he got a job as a primary school teacher was not before and an accountant to a wholesaler at the age of 14, he quit the job two years later to pursue higher studies in Sanskrit. He undertook a studentship in poetry under Manamboor Govindan Asan. He wished to learn Yoga and Tantra and worked as an apprentice in a Muruga temple at Vakkom. It is said that the Muse of Poetry blessed him during this time. He composed a few devotional songs for the benefit of regular worshippers at this temple.
In 1917 Asan married Bhanumathiamma daughter of Thachakudy Kumaran - younger brother of Dr.P.Palpu's father. . Bhanumathiamma, who was an active social worker, later remarried after Asan's untimely death. Bhanumathiamma died in 1975.
Meeting Sree Narayana Guru
Kumaran was dogged by ill-health all through his early life. When he was eighteen, Sree Narayana Guru visited his house at the request of his father. Kumaran was bedridden at that time. The great saint suggested that Kumaran should stay with him and become his disciple. The little boy found the invitation irresistible. Thus began a new phase of life for the young lad.
Kumaran's meeting with Sree Narayana Guru can be compared to the meeting of Naren with Sri Ramakrishna. While Naren became a full fledged Swami, Kumaran continued as a lay disciple of Narayana Guru and made substantial contributions in the fields of poetry, literature and social renaissance.
Swamy took the fledgling devotee under his care and in 1895 Kumaran was sent to Bangalore for 3 years for higher studies in Sanskrit, at the Sree Chamarajendra Sanskrit College. He specialized in Tarka sastra. He could not take the final exam. Leaving Bangalore he came to Madras and after a brief stay, left for Calcutta to join the Sanskrit College. His teacher was Mahamahopadhyaya Kamakhya Nath who encouraged the poetic gift of his student and prophesised that he would one day become a famous poet.
Early Works
Some of the earlier works of the poet were Subramanya Sathakam and Sankara Sathakam, wherein Asan voiced his devotional aspirations. His short poem Veena Poovu (fallen flower) is a literary classic. It paved the way for a new movement in Malayalam literature. His elegy Prarodanam mourns the death of his contemporary and friend A. R. Raja Raja Varma, the famous grammarian. His Khanda Kavyas (poems) like Nalini, Leela, Karuna and Chandaalabhikshuki won critical acclaim as well as popularity. In Chintaavishtayaaya Seetha (Seetha Lost in Thought or The Meditations of Sita) he displays his poetic artistry, while in Duravastha, he patiently and skilfully tears down the barriers created by feudalism, orthodoxy and casteism and consummates the dictum of the Guru, "One Caste, One Religion, One God for man".
He wrote the epic poem Buddha Charitha for which he got inspiration from
Edwin Arnold
's Light of Asia. While in Duravastha, he revealed his revolutionary zeal for fighting caste distinctions; a few other poetic works had a distinct Hindu/Buddhist slant.
He died aged 51 as a result of a boat accident in January 1924 while returning to Kollam from a function in Alappuzha. The boat capsized at Pallana and all on board drowned. Kumaranasan was the only poet in Malayalam who became mahakavi without writing a mahakavyam.
Kumaran Asan's Works:
Saundaryalahari (1901)
Veenapoovu (1907)
Oru Simhaprasavam (1909)
Nalini (Subtitle: Allengkil Oru Sneham) (1911)
Leela (1914)
Sribuddhacharitham (1915)
Baalaraamaayanam (1916)
Graamavrikshattile Kuyil (1918)
Prarodanam (1919)
Chintaavishtayaaya Sita (1919)
Pushpavaadi (1922)
Duravasthha (1922)
Chandaalabhikshuki (1922)
Karuna (1923)
Manimaala (1924)
Vanamaala (1925)
Kumaran Asan also wrote many other poems. Some of these poems are listed in the book Asante Padyakrthikal under the name "Mattu Krthikal" (Other Works):
Sadaachaarasathakam
Sariyaaya Parishkaranam
Bhaashaaposhinisabhayodu
Saamaanyadharmangal
Subrahmanyapanchakam
Mrthyanjayam
Pravaasakaalaththu Naattile Ormakal
Koottu Kavitha
Kavikalkkupadesam
Mangalam
Oru Kathth
Randu Aasamsaapadyangal
(12 April 1873 - 16 January 1924 / Kayikkara, Chirayinkeezhu, Thiruvananthapuram, Kerala, India.)